Commercial Grease Filters
A S Catering provides a wide range of baffle grease filters and mesh grease filters for commercial kitchens. We have a selection of standard size grease filters, and can provide non-standard made-to-measure filters for kitchen canopies and extraction systems that have a unique size requirement.
We can provide stainless-steel grease filters, galvanised steel grease filters and aluminium grease filters, all providing superior filtering of grease particles and with robust constructions to withstand long-term washing and maintenance. 
Mesh Grease Filters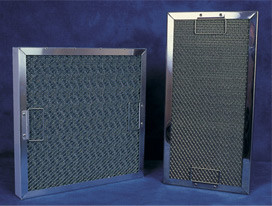 Our mesh grease filters are available in stainless-steel, galvanised steel and aluminium, with a wide range of standard sizes and bespoke options.
A cost-effective solution with superior performance and robust construction, our mesh grease filters are used extensively in commercial kitchens as a pre-filter of large particle contaminants, in high air volume applications and as a grease eliminator. 
Our mesh filters feature an expanded metal filtration pad with a rigid metal frame, combining low pressure drop with high grease arrestment. The multi-layer construction is much more reliable than 'knitmesh' filters and provides superior rigidity for long-term reliability. 
Baffle Grease Filters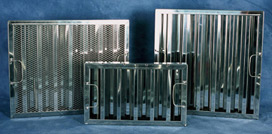 Our baffle grease filters force extracted grease-laden air through multiple changes of direction, separating out any grease particles as they are not able to change direction as quickly as the air carrying them. The grease then drains safely into drip trays, allowing easy grease removal during cleaning.
Our baffle filters are used extensively in commercial kitchens, providing a flame barrier for extraction canopies and ensuring that no grease particles enter the extraction system.
The stainless-steel filter frames feature rolled edges and blades for optimum performance, providing maximum airflow and minimal pressure drop. The baffle blade design and spacing provides much greater grease filtration efficiency than most other types of baffle grease filter on the market. 
How to Order a Commercial Grease Filter 
If you have a requirement for a grease filter for your commercial kitchen please get in touch and our experienced team will be glad to help. We are able to ship to most worldwide locations on very short lead-times. 
We'll need the following information from you:
- Type of filter required
- Quantity required
- Construction material required
- Height and width of filter
- Requirement for handles and drain holes (mesh filters only)
- For bag filters, the efficiency of the bag, size of the header and how many pockets
Call: +44 (0)1425 632800
Email: [email protected]